Howdy, Dunkers! It's launch day again! 😎
Today, I want to introduce you to a colorful new template called Chroma. On top of all the customization and content options, Chroma also has smooth and seamless single-page portfolio browsing.
Check out a live demo of Chroma here and read on to learn more.
It's your site, customize it!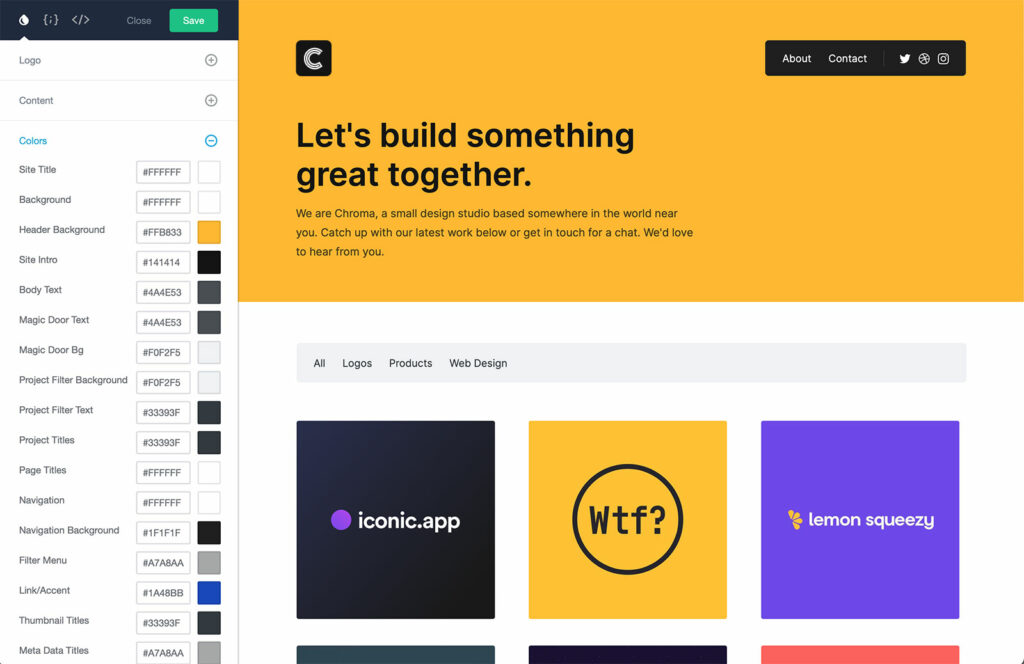 Color is in again, folks. Luckily, Chroma is jam packed with easy-to-use color pickers that help you customize your portfolio site to match your style. Use our hand-crafted default color palette, or go wild and choose your own adventure.
Chroma comes with a boat load of other customization options, too.
Add a big, bold headline and tagline to your header with the built-in content options.
Tweak all of the typography on your site
Upload your own logo
Add social media icons to your header
Toggle site elements on and off
Buttery-smooth project browser
Ever heard of AJAX? Basically, it loads content on the fly without having to refresh the page, letting you see more content quickly. Yeah, well, we've added that feature to Chroma.
When you click any project in the portfolio grid, it will dynamically load the project right on your homepage. This means that clients can browse your portfolio in a quick, seamless experience. You should really just check it out to really get the full experience.
If you don't love this sweet portfolio browsing feature, you can always disable it and your portfolio will work the ol' fashioned way.
Try Chroma for free today
Yeah, seriously. You can fire up a Dunked portfolio free of charge for 10 days. Sign up, kick the tires, check out Chroma and the other 18+ templates, and load up a few of your projects to see how nice they look.
That's all we have today, folks! But stay tuned because we'll have another shiny, new template and some other goodies coming your way soon. ✌️